Law School Celebrates Life and Legacy of Legal Giant
Posted on March 29, 2016
Please join Dean Stacy Leeds and the University of Arkansas School of Law at 5 p.m. Thursday, March 31, at University House to celebrate the life and legacy of Al Witte.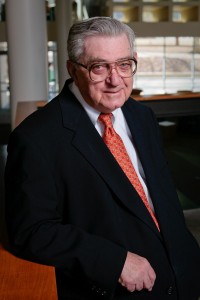 Witte, professor emeritus and former NCAA president died in December after nearly six decades with the law school. His contributions will be honored by friends, family, colleagues, students and alumni at the event, which will be emceed by Witte's friend and former colleague professor Ray Guzman.
"We all miss Al," Leeds said. "This is a time for us to gather, tell stories and remember a man whose intellectual agility and classroom persona were surpassed only by his quick wit and depth of character."
The event will include presentations by Guzman, Ruth Ann Wisener (J.D. '91) and Jordan Broyles (J.D. '15). Remarks will begin at 5:30 p.m. All are welcome, and registration is requested.
CONTACTS
Darinda Sharp, director of communications
School of Law
479-575-7417, dsharp@uark.edu