Law Students Create Video for First Responders to Spot Human Trafficking
Posted on March 17, 2016
University of Arkansas School of Law students Alexa Mizer and Chloe Roane have created a video to train Arkansas' first responders to identify human trafficking.
The video, Human Trafficking Awareness for First Responders in Arkansas, and supplemental written training materials were produced during the fall 2015 semester as part of the students' work in the Human Trafficking Clinic and will be used by their client, Catholic Charities of Little Rock. The Human Trafficking Clinic is part of the School of Law's Legal Clinic.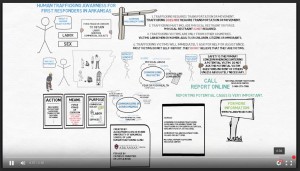 "We hope that this video will clear up some of the common misconceptions about human trafficking and help first responders recognize certain red flags that may indicate someone is a victim of human trafficking," Roane said.
The students got the idea for the video when speaking with local firefighters about how to most effectively train first responders. According to the video, first responders are "in a unique position to identify victims while they are still under the control of their traffickers."
"To help us create useful training materials for our client, I visited several fire stations and spoke to firefighters," Mizer said. "They suggested that, in addition to a written document, a training video could be used to efficiently train fire fighters throughout the state and in rural areas."
Under the supervision of Annie Smith, assistant professor of law, students in the Human Trafficking Clinic complete advocacy projects for their clients – agencies and organizations seeking to confront and prevent human trafficking. Through their work in the clinic, students develop highly transferable professional skills, including fact investigation and legal research, written and oral communication, and critical and strategic thinking.
"Working in the clinic was hands-down one of the most fulfilling and educational experiences I have had in law school," Mizer said. "One of the most important things I learned this semester was how to approach a client who has experienced a very traumatic situation; this is a skill that is rarely discussed or developed in a classroom setting."
The video addresses public misconceptions about human trafficking, including the notion that it doesn't occur in Arkansas. Smith published an article in the Summer 2015 issue of The Arkansas Lawyer that points to three high-profile human trafficking cases in March and April of that year as well as several cases in the Arkansas courts.
Mizer and Roane note in their video that more than 20 cases of human trafficking in Arkansas were reported to the National Human Trafficking Resource Center between Jan. 1 and June 30, 2015.
About University of Arkansas School of Law Legal Clinic: Since 1975, the University of Arkansas School of Law Legal Clinic has fulfilled the dual mission of providing experiential learning opportunities for students and legal services to clients throughout Arkansas. The Legal Clinic is an umbrella for the American Indian Law Clinic, Civil Litigation and Advocacy Clinic, Federal Practice Clinic, Human Trafficking Clinic, Immigration Clinic, Criminal Defense Clinic and Transactional Clinic. Each clinic offers law students the opportunity to practice law under the close supervision of a full-time faculty member.