Arkansas Law Student to Become Marine Corps Judge Advocate General Officer
Posted on August 5, 2015
Michael R. Cathey, a third year law student at the University of Arkansas was promoted to the rank of first lieutenant in U.S. Marine Corps Officer on July 20. Lt. Cathey was commissioned as an officer in the Marine Corps in the summer of 2013 after graduating from Hendrix College. He is able to pursue his law degree through a Marine Corps program known as Platoon Leaders Class Law, which guarantees he will serve in the Marines as a Judge Advocate General.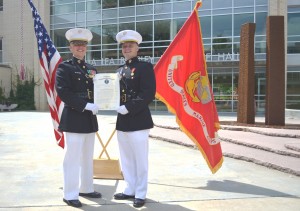 To be eligible for this program, applicants must complete their bachelor's degree before attending Officer Candidate School, either after their senior year of college or during their first or second law school summer. They must pass the bar exam before reporting to The Basic School. Applicants are paid for their time in training and are eligible for a paid internship while they are waiting for the results of their bar exam. Applicants must achieve a Law School Admission Test score of 150 or higher.
The Platoon Leaders Class is not just for law students. For college freshman, sophomores and juniors, the program normally consists of two, six-week training sessions taken between consecutive school years, while juniors attend one, ten-week summer training session. Young men and women attending any accredited four-year college or university are eligible for this class.
The Officer Candidate Course is designed specifically for college seniors and graduates with ambitions to become a Marine Corps Officer. Candidates in this program attend a ten-week course at Officer Candidates School in Quantico, Virginia. Those who successfully graduate receive a commission as a Marine Officer and are immediately assigned to active service and begin attending The Basic School.