School of Law to Host Summer Program for Native Youth in Food and Agriculture
Posted on July 16, 2015
The Indigenous Food and Agriculture Initiative at the University of Arkansas School of Law hosts its second annual Native Youth in Food and Agriculture Summer Leadership Summit on the University of Arkansas campus July 19-28.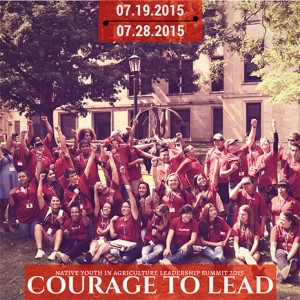 The summit welcomes 94 high school and college students from 47 American Indian and Alaska Native tribes from across the country to campus for a week of classes on risk management, finance and business, marketing, and legal issues. Farm Credit Council, First Nations Development Institute, the Intertribal Agricultural Council, and the United States Department of Agriculture Natural Resource Conservation Service, partner with the School of Law on the program.
"This is an outstanding example of interdisciplinary collaborative work at the University of Arkansas," said Stacy Leeds, dean of the School of Law and a member of the Cherokee Nation. "We are leveraging substantive expertise with commitment to self-determination to help build a sustainable food and agricultural sector in Indian country."
In addition to School of Law faculty, students will be under the instruction of faculty of the Bumpers College of Agricultural, Food and Life Sciences, including Dean Michael Vayda. Professionals in the food and agriculture sector and tribal leaders will also teach courses.
"The Leadership Summit will provide a pipeline of support for building the next generation of Indian Country's food and agriculture leaders," said Janie Hipp, director of the Indigenous Food and Agriculture Initiative and a member of the Chickasaw Nation.
"This long needed program will expose youth to the role governments play in American Indian agriculture," said Ross Racine, executive director of the Intertribal Agriculture Council. "The program will provide a foundation from which each attendee can build an informed educational foundation and the program will provide a financial record keeping foundation which will be beneficial for each attendee no matter what future career they choose to pursue."
"Farm Credit is proud to be a partner in the development of leadership and financial skills among Native American young and beginning farmers," said Gary Matteson, vice president of Young, Beginning, Small Farmer Programs and Outreach at the Farm Credit Council. "The future is bright for agriculture on tribal lands, and Farm Credit expects this program will be the participant's first step in achieving long-term farm business success."
First Nations Development Institute, a major financial supporter of the summit, supports rural communities through the funding of programs committed to building diverse and successful Native American economies and communities. "We are pleased to partner with a like-minded organization," said Hipp.